Physical Education
At Bishop Loveday School we consider PE and sport to be part of the heart of the school. We see this area of the curriculum as a perfect place to develop the whole child, not just their physical skills. With this in mind, we adopt the '4 Me' approach during PE lessons which focusses on, and links, the thinking, social & healthy alongside the physical aspects of life.
As an overview the Physical Education Intent document is below :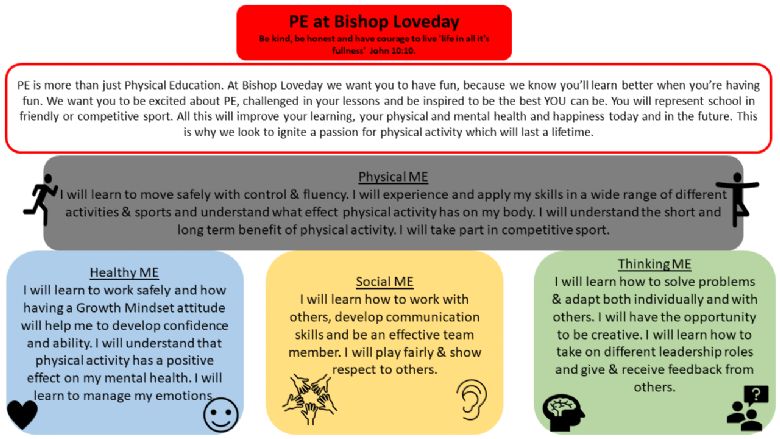 For more information about our PE curriculum, please see our Warriner MAT website for overviews and progression documents.
Personal Challenge also forms part of PE from Years 1-6. This could include a skipping challenge, circuit training or something similar. PE is complemented in EYFS and KS1 with all pupils taking part in outdoor learning in our Forest School area. This is an extremely popular activity with our youngest pupils.
Encouraging pupils to take on leadership roles also plays an important part of school life. Play Leaders and Sports Leaders receive training to facilitate activity and games for other pupils at lunch times. They also help organise and officiate at sports events both in and out of school and ensure that PE equipment is tidy and ready to use.
As a member of North Oxfordshire School Sports Partnership, we enter as many interschool festivals and competitions as possible. This enables ALL pupils to go to Blessed George Napier school or another venue to represent BLS against their peers from around the local area. Taking part in the competitions allows pupils to play against teams from other schools and progress to area and county finals. 100% of pupils (Years 1-6) were invited to attend an interschool event, with over 95% taking up the offer (academic year 2018-19). These events can range from sport specific tournaments: hockey, football, tag rugby for our older pupils, swimming for our more able swimmers, multi skill festivals for KS1 children and taster sessions, girl only activities and friendly events for our less experienced pupils. NOSSP also offer support for our PE co-ordinator and all staff through regular meetings and training courses.
In addition to PE and school sport, pupils will have the opportunity to experience school residential trips. A range of age appropriate experiences across the school that allow the children and adults to focus on outdoor activities and team building alongside personal challenges in different surroundings. These are often the highlight of a pupil's year, and what they remember with extreme fondness when moving to their next school.
We offer a large range of after school clubs. These are mostly free of charge, although some are run independently and subject to weekly charges. Due to our established links with local community clubs, we are extremely lucky to have coaches support some of our after-school clubs.
We will send out information and details of local sports clubs, initiatives and holiday activities that may be of interest to you. Please see Community Sports Club section for more information.