The Arts
The Arts are a very wide range of human practices of creative expression, storytelling and cultural participation. The arts include visual, literary and performing arts.
At Bishop Loveday, our vision: 'Be kind, be honest and have courage, to live 'life in all its fullness' (John 10:10) is intrinsically linked to everything we do. The arts play a key role in helping us to live up to our vision as they permeate through the school's daily life, for example, supporting children to reset in a sensory circuit, using art to understand history, having music on to inspire writing and songs to help learn facts to name a few. We believe that giving children an opportunity to try new skills, including within the arts, as well as celebrating the whole child ensures that all children have an opportunity to flourish.
As testament to our passion and commitment to the arts, we are currently striving for the Artsmark platinum award.
Below, you can find out more about our art and music curriculum. Information regarding the rest of the arts can be found on associated pages of our website.
Our Art Curriculum
The teaching of art at Bishop Loveday follows the statutory guidance of the National Curriculum. Details of our curriculum can be found on The Warriner Trust Website.

We would like our children to become critical thinkers and develop their understanding of art and design. This is done by allowing our children to reflect and share ideas surrounding pieces of artwork and broaden their knowledge and understanding of our own history which has contributed to the culture, creativity and wealth of our nation.
We provide our children with the opportunity to develop their skills in
Drawing
Painting
Sculpture
Other art and design techniques – batik, printing sewing
and become proficient in these skills throughout their journey at Bishop Loveday.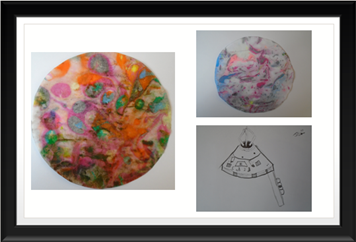 Our Music Curriculum
"Music expresses that which cannot be said, and on which it is impossible to be silent'" Victor Hugo
The teaching of music at Bishop Loveday follows the statutory guidance of the National Curriculum. Details of our curriculum can be found on The Warriner Trust Website.
Music is a universal language. A high-quality music education engages and inspires pupils to develop a love of music. Music also has the potential to make a huge difference to children's development. It can increase confidence, promote team working, improve concentration and enhance social cohesion within the school and wider community.
Music lessons are fun and inspiring, engaging the children with songs, practical activities and movement. Children in Year 4 enjoy weekly music sessions delivered by a specialist djembe drumming teacher. Our long-term planning overview links to National Curriculum objectives and ensures that the children experience a wide variety of musical genres and a steady progression of knowledge and skills. This will be through listening and responding to music, composition, performing and evaluating.
Further opportunities throughout school include: weekly key stage singing sessions and singing during collective worship times. The children also gain knowledge of the history and origins of music through our 'around the world' music journey during our whole school worship sessions. Children are also encouraged to learn to play a musical instrument through a variety of visiting peripatetic staff from the Oxfordshire County Music Service. Our school choir perform at many local venues and at occasions throughout the school year, such as 'Children Singing for Children' and taking part in our local church services. Christmas performances and topic based- celebrations also give the children a chance to demonstrate their musical abilities to audiences.
---
We have been recognised as a 'Music Mark' School. Music Mark Schools are committed to providing a high-quality music education for their school community.